HV Vir outburst
Observed: 14, 15 Feb 2008
Michel Bonnardeau
15 Feb 2008
Updated 16 Feb 2008, 17 Mar 2008
Abstract
This UGWZ cataclysmic was reported as being in outburst. Time-series of the beginning of the outburst, showing double peaks, are reported.
Introduction
HV Vir is a cataclysmic variable, that is a binary system with an accreting white dwarf. Its orbital period is 1.3918h=83.508mn (Warner (1995)). It is classified as a UGWZ or of WZ Sge type, that is a dwarf nova with rare (one per ~10 years) and very bright outbursts. In its quiet state, HV Vir is around mag 19 and reaches 11.5 when in outburst.
It was reported over the Internet as being in outburst, so I observe it. The observations were submmited to the CBA and to the AAVSO (observer BZU).
Observations
The observations were carried out with a 203mm SC telescope, a Clear filter and a SBIG ST7E camera (KAF401E CCD). 177+132 usable images were obtained, each with an exposure duration of 60s (except the first one: 30s).
For the photometry the comparison star is GSC300-00056 (AAVSO 125 or 000-BBT-577) with an assumed unfiltered magnitude of 12.000, and the check star is GSC300-00603 (AAVSO 141 or 000-BBT-570) with a measured average magnitude of 13.621, an average 1-sigma statistical uncertainty of 0.032 and a standard deviation of 0.039.
The resulting light curves: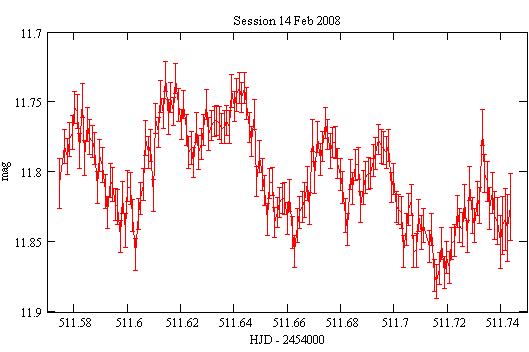 The error bars are +/- the 1-sigma statistical uncertainties. Good sky conditions.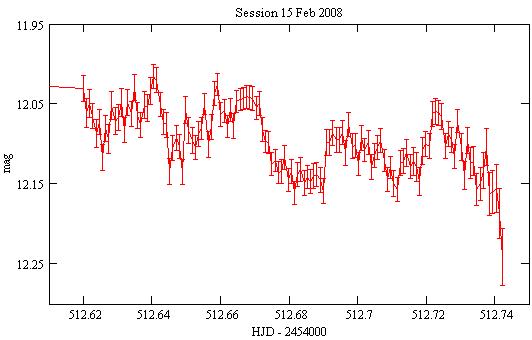 Foggy sky conditions, the beginning of the session was lost.
Link
I was able to observe only the beginning of the outburst. Other observers were able to observe superhumps, especially at the Higashi-Hiroshima Observatory, with the KANATA telescope, see http://kanatatmp.blogspot.com.
Reference
Warner B. (1995) Cataclysmic variable stars Cambridge UP.
Technical notes
Telescope and camera configuration.
Computer and software configuration.