IQ Eri: a cataclysmic in outburst
Observed: 27, 28 Dec 2008
Michel Bonnardeau
28 Dec 2008
Updated 29, 31 Dec 2008
Abstract
Time series for this cataclysmic variable in outburst are presented.
Introduction
IQ Eri (=1RXS J025538.2-224655) was detected in outburst by Monard (2008). This is the first outburst since the discovery of this cataclysmic system in 2002.
Observations
The observations were carried out with a 203mm f/6.3 SC telescope, a Clear filter and a SBIG ST7E camera (KAF401E CCD). 361 images were obtained, each with an exposure duration of 60s.
For the differential photometry, the comparison star is GSC 6437-00137 with an assumed unfiltered magnitude of 11.8. The check star is GSC 6437-00013 with a measured average magnitude of 13.063, an average 1-sigma statistical uncertainty of 0.027 and a standard deviation of 0.040.
The resulting light curves:

Session 27 Dec 2008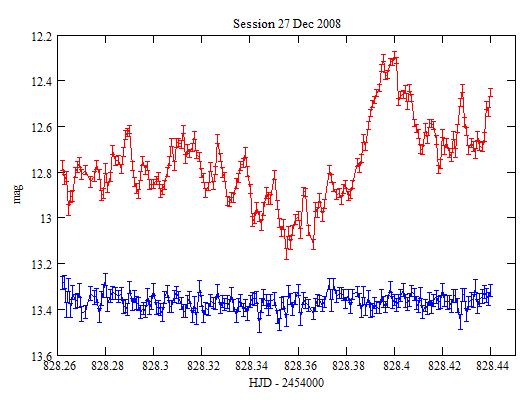 Red: IQ Eri, blue: the check star shifted by +0.3mag. The error bars are +/- the 1-sigma statistical uncertainties. The average 1-sigma statistical uncertainty of the check star is 0.027, the standard deviation 0.037.

It looks like there is a pulsation with a period around 18mn, but this is not confirmed the night that follows.

IQ Eri is low over my horizon (it is at DEC=-22° and I am at 45°N). However the sky was fairly good: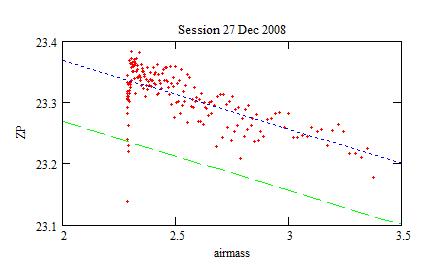 The photometry zero point as a function of the airmass. The blue dot line is a linear fit, the green line is 0.1mag below. There are a few measurements that are not too good (below the green line) but I did not filter out any data.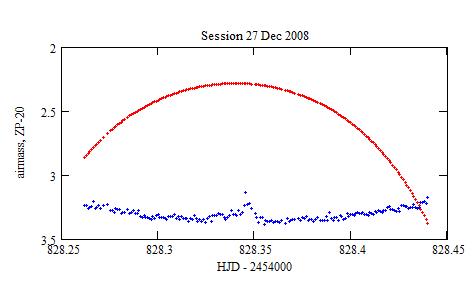 Red: the air mass, blue: the photometry zero point shifted by -20 mag.
Session 28 Dec 2008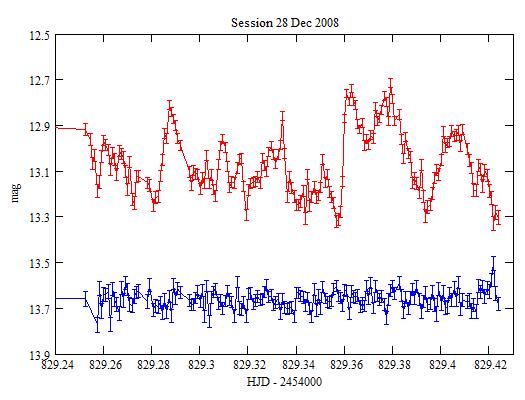 The average 1-sigma statistical uncertainty of the K is 0.027, the SD is 0.042.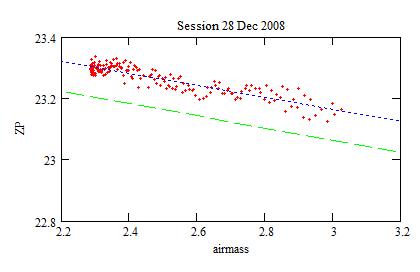 3 images were discarded because of the extra losses (much below the green line).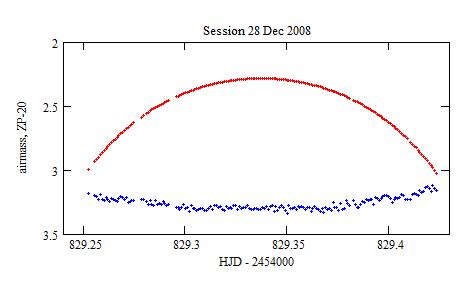 Reference
Monard L.A.G. (2008) IAU CBET 1633.
Technical notes
Telescope and camera configuration.
Computer and software configuration.