SDSS J213122.40-003937.0: a new cataclysmic
Observed: 23, 24, 27 Dec 2008
Michel Bonnardeau
25 Dec 2008
Updated 30 Dec 2008, 4 June 2009
Abstract
Photometric measurements and a light curve for this newly discovered variable are presented.
Introduction
This object was recorded as bright on 16 Dec 2008; a 100mn modulation with a 0.1mag amplitude was observed, suggesting a SU UMa type cataclysmic system (Yamaoka et al (2008)).
Observations
The observations were carried out with a 203mm f/6.3 SC telescope, a Clear or a V filter and a SBIG ST7E camera (KAF401E CCD).
Session 23 Dec 2008

Two differential photometry measurements were obtained, one with a Clear filter the other one with a Johnson V filter:


Filter
JD
Magnitude
Comparison
C
2454824.27521
14.767+/-0.067
GSC 5208-00505
assumed unfiltered mag 12.7
V
2454824.27969
14.792+/-0.072
Tycho2 5208-00478
with V=11.156 (converted with
Mamajek et al (2002 & 2006))
Session 24 Dec 2008

To make a light curve, 32 images were obtained, each with an exposure duration of 200s. A Clear filter is used. The comparison star is GSC 5208-00505 with an assumed unfiltered magnitude of 12.7. The check star is GSC 5208-00434, with an observed magnitude of 14.773, an average 1-sigma statistical uncertainty of 0.018mag and a standard deviation of 0.022mag: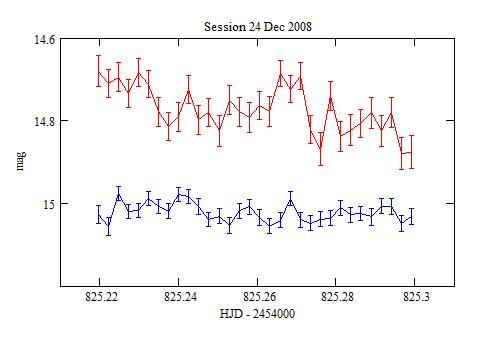 Red: VAR/Aqr, blue: the check star, shifted by +1.1mag. The error bars are +/- the 1-sigma statistical uncertainties.

VAR/Aqr is not well placed and the airmass is high. However the sky conditions were good: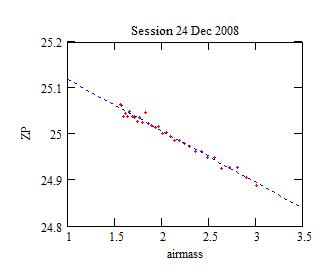 The photometry zero point as a function of the airmass.
Session 27 Dec 2008

I try a time-series but the object was no longer visible.
I stack 11 images (total exposure 2200s): there is an object at the position with a magnitude around 19 or 20.
This is a drop of a least 4 mag in 3 days.
Reference
Mamajek E.E., Meyer M.R., Liebert J. (2002) AJ 124 1670 Appendix C; Erratum (2006) AJ 131 2360.
Yamaoka H. et al (2008) IAU CBET 1631.
Technical notes
Telescope and camera configuration.
Computer and software configuration.