Telescope and camera configuration A5817
Creation: 17 Aug 2005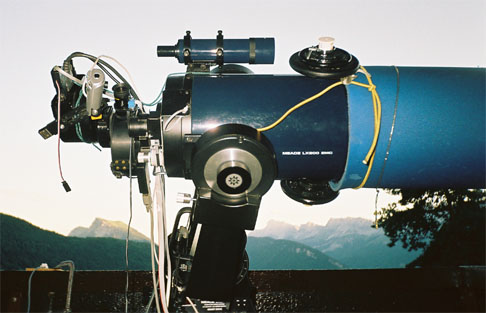 Telescope: Meade LX200 Classic 203mm f/6.3.
Camera: SBIG ST7E (and Philips TouCam Pro webcam).
Focuser: RoboFocus to drive the LX200 focus knob, with homemade braket.
Filter wheel: True Technology Custom Wheel wide (with mirror for eyepiece).
Filter holder with drawers: from Gerd Neumann. I use it to insert a grating for very low resolution spectroscopy experiments.
Counterweight: 2x1.5 kg on piggyback mounts, long thick foam dewshield with an homemade ring of counterweights, 0.7 kg on the left arm of the mount with also an homemade ring of counterweights.
Telescope theoretical resolution at 700nm
0.73 "
ST7E KAF401E
chip size
6.89x4.59 mm
765x510 pixels
pixel size
9x9 microns
1.38 "
ST7E TC211
chip size
2.64x2.64 mm
192x164 pixels
pixel size
13.75x16 microns
2.11x2.46 "
TouCam pixel size
5.6x5.6 microns