AE Aqr flares (and HX Aqr)
Observed: 29, 30, 31 Aug 2005
Michel. Bonnardeau
31 Aug 2005
Updated: 1, 10 Sept 2005
Abstract
Time-series of this unusual cataclysmic star were obtained with B and V filters. Flares were observed, with strong color changes.
Introduction
AE Aqr is a cataclysmic star, that is a binary with an accreting white dwarf. The orbital period is 9.9h with a small inclination (no eclipse). AE Aqr shows an oscillation with a very short period of 33s, which is interpreted as the rotation period of the magnetic white dwarf.
From 28 Aug to 2 Sept 2005, there was an international, multiwavelength observation campaign, with the following telescopes:
gamma-ray: HESS and MAGIC Cerenkov telescopes
X-ray: Chandra satellite
U-V: GALEX satellite
visible: VLT and other telescopes
radio: VLA radiotelescope.
Amateurs were invited to provide time-series, via the AAVSO (AAVSO Alert Notice 326, 24/08/2005).
AE Aqr was also a CBA target for Aug-Sept 2005.
Next to AE Aqr, the suspected eclipsing star HX Aqr was also observed.
Observations
The observations were carried out with a 203 mm f/6.3 SC telescope, V and B filters used alternatively with a filter wheel and a SBIG ST7E camera (KAF401E CCD). The exposure durations were 200s with the B filter, 60s with the V filter.
The comparison star is star 99 in the AAVSO chart 2035-01 (d), with V=9.93 and B-V=0.147 (a very blue star). The check star K is GSC 5177-01044. I also observed HX Aqr, a suspected eclipsing variable, which may be constant.
The light curves: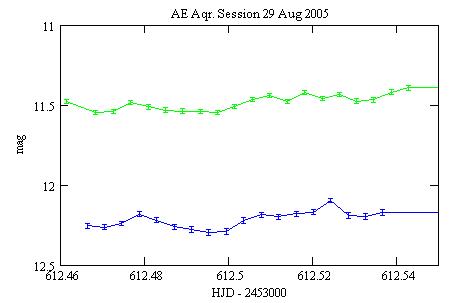 Green: the V magnitudes, Blue: the B magnitudes. The error bars are +/- the 1-sigma statistical uncertainties.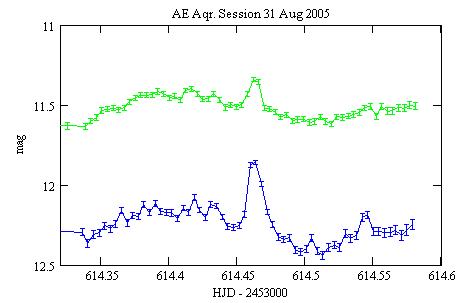 The light curves of the check star and of HX Aqr are HERE.
B-V variations
The B and V magnitudes are measured alternatively, not simultaneously. To compute B-v at time t, the B and V magnitudes are interpolated.
The measured magnitudes are corrected for the transformations coefficients:

B = b + Tb*Tbv*[(b - v) - (Bc - Vc)]
V = B - [(Bc - Vc) + Tbv*[(b - v) - (Bc - Vc)]]

where b, v are the measured magnitudes, Bc, Vc the magnitudes of the comparison star. Tb and Tbv are the transformations coefficients. They were measured on 7 Jan 2005 from the Landolt 95 field with the same telescope, camera and filters:

Tbv = 0.967
Tb = -0.043
The resulting B-V variations: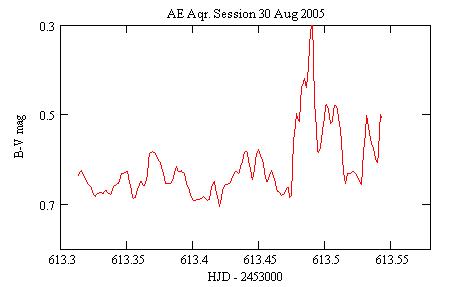 Technical notes
Telescope and camera configuration.
Computer and software configuration.