V603 Aql: a flickering nova remnant
Observed: 2, 23 July 2006
Michel Bonnardeau
3 July 2006
Updated 24, 26 July 2006
Abstract
Light curves for this cataclysmic variable, the remnant of a 1918 nova, are presented.
Introduction
V603 Aql is a cataclysmic variable star, that is a binary star with an accreting white dwarf. It blew up as a nova in 1918. It is a bright, well studied star (Warner (1995)):
the orbital period is 3.3157 hours;
very variable, notably with flickering and superhumps;
it is an X-ray source and, according to some authors, the accretion may be magnetically funnelled (an Intermediate Polar type cataclysmic star).
V603 Aql is a CBA target for June-July 2006.
Observations
The observations were carried out with a 203mm SC telescope, a Clear filter and a SBIG ST7E camera (KAF401E CCD). 529 images were obtained over 2 observing sessions. Each exposure has a duration of 30s.
For the photometry, the comparison star is GSC 448-00731 with an assumed unfiltered magnitude of 10.0. The check star is GSC 448-00587 with an observed unfiltered magnitude of 12.388 and a standard deviation of 0.014.
The resulting light curves: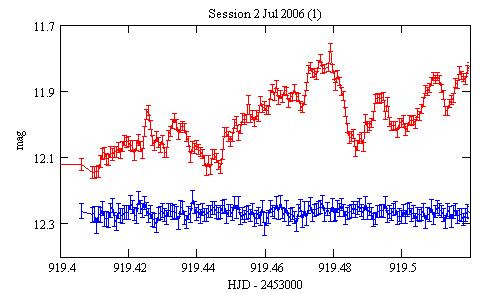 Red: V603 Aql, Blue: the check star shifted by -0.2 mag. The error bars are +/- the 1-sigma statistal uncertainties.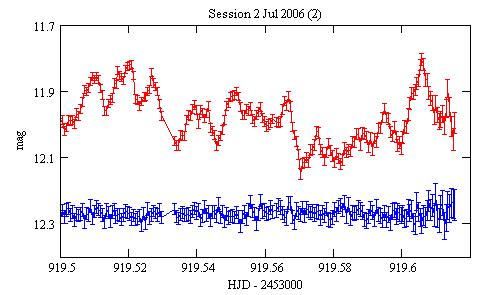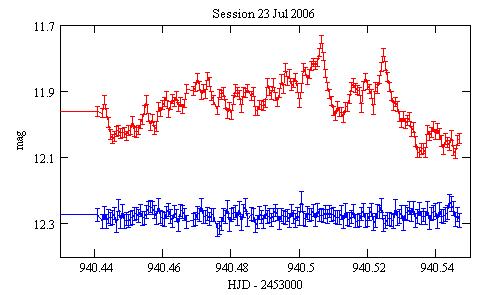 Reference
Warner B. (1995) Cataclysmic variable stars Cambridge U.P..
Technical notes
Telescope and camera configuration.
Computer and software configuration.